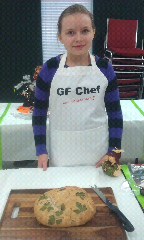 Sometimes when developing recipes, it has to be tried several times and tweaked. Other times it just all falls into place but you never quite know which way it will go.
A few weeks ago, Living Without sent a newsletter with a recipe for a
sourdough bread
and we had been wanting a sourdough. Yum. So I called Daisy in to help me mix up the starter, mainly so she could see that it wasn't a big deal. It isn't a long complicated thing, it just takes a few days.
Four days later we had a loaf of sourdough bread with supper and Daisy took one bite and said "contest bread!" We had been experimenting with some yeast bread and had pretty much picked one out but once she tried the sourdough, she loved it.
I had seen a
beautiful round loaf
on Pinterest that had herbs baked onto the bread crust as decoration. Daisy and I thought it looked beautiful and since the judges won't actually
taste
the food (worries of food poisoning), it needs to look as good as possible. Since this herb bread wasn't gluten-free, she tried making the sourdough as a herb bread and it was wonderful.
Honestly the
best
sandwich I have had was this herb bread with pesto and turkey. But this is really good bread without the herbs.
As for the flour amounts, they aren't written in stone. The original recipe was "3 cups of your favorite flour blend" and this one was made up on the fly. I didn't even write down the amounts I used (but I was was able to get it within 10 grams on each flour). My main thing was 60% starch by weight and 40% whole-grain/protein flour.
She did an amazing job with this bread. Daisy has reached the point where she is comfortable enough in the kitchen to work some on her own, especially on a recipe that she has made several times. Poor thing, nearly every time I would print out a new recipe, something would be wrong with it which made for extra practice times for her. The day before contest, the recipe I printed out was
again
messed up (the potato starch was missing) so the two loaves made on friday were a mess. She got up on her own at 6 on saturday morning and did everything for the bread. I over-slept (I was going to keep her company) and all that was left for me to do was slide it into the oven.
She won first place and will be going on to district in February. That day she will also be competing again in the
Food Challenge
. And the following week is youth fair.
Gluten-free Sourdough Herb Boule
127 grams potato starch
100 grams arrowroot flour
73 grams brown rice flour
50 grams almond flour
20 grams sorghum flour
8 grams mesquite flour
50 grams sugar
2 teaspoons xanthan gum
¼ teaspoon cream of tartar
1½ teaspoons kosher salt
2 teaspoons active dry yeast
1 cup "fed" sourdough starter
3 tablespoons coconut oil, melted
1½ cups warm coconut milk (about 100°F)
2 tablespoons fresh rosemary, minced
1 tbsp fresh basil, minced
1 tbsp fresh thyme, minced
1 egg white
1 tablespoon water
whole basil leaves
parsley leaves
thyme sprigs
1. In the bowl of a stand mixer fitted with the paddle attachment, mix the flour, xanthan gum, cream of tartar, sugar, salt and yeast to combine. Add sourdough starter and oil and mix to combine.
2. With the mixer on low, pour in the milk in a slow, steady stream. Once the flour has begun to incorporate the liquids, beat the ingredients on at least medium speed for 4 to 6 minutes. The dough will be pretty sticky—thicker than cake batter, not quite as thick as cookie dough. Scrape the dough onto parchment paper on a sturdy oven-safe baking dish (cookie sheet or pizza stone) and smooth into a boule shape with wet hands.
3. To decorate loaves: Place a large bowl of cold water beside the stove. Bring a large saucepan of water to a boil. Drop basil leaves, parsley and thyme sprigs into the boiling water for a few seconds. Retrieve with tongs or a slotted spoon and drop into the cold water. Pat herbs dry.
4. Blend egg white and water with a fork in a small bowl; brush over the risen loaves. Arrange herb sprigs decoratively over the loaves. Brush again with the egg-white glaze.
5. Allow the dough to rise in a warm, humid place for 30 to 45 minutes or until it has about doubled in size. While the dough is rising, preheat the oven to 400°F.
6. Bake the loaf in preheated oven for 40 to 45 minutes or until a nice, golden brown crust has formed on top.